Who Is Watching You Online?
July 21 2012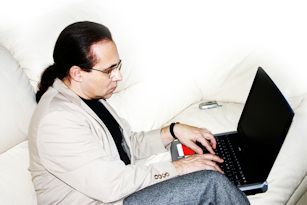 There is always a lot of chatter and worry about privacy issues online. When I saw the headline in today's Courier Mail, I just had to read further.
Warning to Brisbane workers 'chucking sickies' that Facebook posts could help the boss catch you faking it.
If you're 'chucking a sickie' from work one Brisbane Law firm warns posting pictures on Facebook could see you sprung by the boss.
Chris Ng of Bennett and Philp lawyers, located in the CBD, said it was important to set up private Facebook profiles.
"There is always the potential for a fairly innocent Facebook post or uploaded photo to be easily misinterpreted by other people,'' Mr Ng said.
"People need to be very cautious about what they post on Facebook or Twitter.
"If conflicting or misinterpreted information or photos are found on Facebook or Twitter then it will open the way for an employer or insurer to launch an attack on their credibility.''
The article goes on to say "If you are genuinely sick, but well enough to access Facebook and upload photos, be very sensible and cautious as to what you post online, as it could easily be misinterpreted by your employer or colleague.''
You can read the rest of the article on the Courier Mail website but my question to you is should you be worried about what you post on social media? How will it affect the choices you make?