Facebook or Twitter?
April 25 2012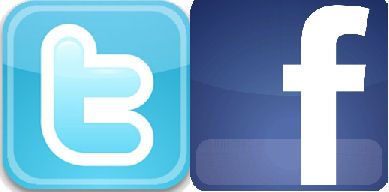 Having a social network presence is important for any business as it helps with your communication as well as providing an effective way to network with your customers. Knowing the difference between them and how best to use Facebook and Twitter can make a significant impact with the effectiveness of your marketing strategy and being able to target your message.
While both Facebook and Twitter will allow you to engage with your customers they have distinct differences and should be utilised differently.
Twitter is real time interaction with activity happening very soon after a tweet whereas Facebook interactions can be over several days, weeks and even months. The choice can be critical if you need to provide immediate and current updates.
Facebook has a more structured network aspect than Twitter which means your network can be focused on common areas of interest such as new products or services, special offers or discounts.
Facebook can be better segmented so that comments and feedback can be linked to a given topic or subject. This makes it easier to track and analyse the comments that may influence your future marketing messages.
Facebook has more of a social information focus due to the sharing of photos, videos and general information whereas Twitter has more of an information focus.
Twitter uses short messages of 140 characters. Facebook is less restricting and discussions build up into a thread on your page.
From a business perspective they are both important and by understanding your market and how best to communicate with them, the choice will be made for you. After all, there's no point tweeting if your market is on Facebook, is there?
Many businesses test their marketing strategy by posting to both networks and assessing their results. No matter which you use, the choice needs to fit your market and your communications strategy.
So, which will you use?
Keeping Facebook Under Control
May 5 2011
Social networking sites used to be just about finding long lost friends and relatives and being able to keep in touch with them. For some it's also a way to meet new friends. But today these sites, such as the ever popular Facebook, are being used to promote businesses and sell products and services from all over the world.
Facebook has proven to be such a great marketing tool for promoting businesses that almost everyone who wants to make their enterprise a success has used Facebook to do it. It's not hard to do but it can become very time consuming.
It's no wonder that time disappears when you are on Facebook. It is a social medium, after all. There is a lot going on and lots of people to interact with but you can't afford to spend your valuable time building your business presence on the one platform.
Make use of the option to appear offline. When you really don't have the time to chat, going 'offline' stops that tempting little chat window from popping up and derailing your train of thought.
Avoid those games that are all over the place. They are time suckers! You can block applications when you need to.
Set yourself a time limit and stick to it. Set a timer if you have to. That annoying beeping will get to you eventually!
Finally, try using Facebook via an external source like Hootsuite or TweetDeck. It isn't as much fun so you can get your message out without being distracted.
Facebook is a very good means to market your products and services to potential customers as well as a good way to gain business contacts, which are the key points to making your business a success. Just be sure that you manage it rather than allowing it to manage you.
Facebook as a Marketing Tool
October 6 2010
Facebook is one of the busiest portals on the internet. Almost every household will have at least one member who has a Facebook account. That gives businesses the potential to have a direct line into each home. Just imagine the power that could give to your marketing strategy?
Before you do anything at all you need to understand that Facebook is a social media, not an advertising tool. It is all about social interaction and relationship building. If you don't establish genuine relationships you won't be able to show off your business. I'm sure you have seen businesses that post nothing but "buy this" or "Special Offer". Apart from the fact that it's boring to read, they haven't built a connection with their followers that would encourage anyone to trust them.
Now, how can you market your business on Facebook?
Welcome page – this is a nice way to let people know what your business is all about and encourage them to follow you.
Info page - make the info page (and the content in your sidebar) interesting and relevant to your target market. Inject personality.
Branding – Make sure that your logo and colours are reflected on your page. People will become familiar with it.
Good content – post interesting and useful information. Chat about what your business is doing but also include links to informative articles, relevant sites and YouTube clips.
Network –Extend your connections by actively looking for new ones. Seek out your competition, look for alliances, look for existing clients, join the pages of relevant organisation and then interact with them.
Marketing on Facebook is not hard if you have built genuine connections. People don't like to buy from strangers. Remember that.
5 Ways to Find Joint Venture Partners
June 23 2010
We recently wrote a blog post about Joint ventures and how they can help your business to grow. Have you been thinking about trying it out? What you will need to do first is find some suitable JV partners. A good JV partner is a business or individual that shares the same target market that you do, but offers different services. Where do you go to find the right business to partner with?
Here are 5 of the best places to search.
Networks
The most logical place to start looking is within your existing networks and forums. You are already known there so this gives you an advantage when you start asking businesses to join you. You also know the other businesses so it becomes easier to choose which you want to align yourself with..

Forums also offer a great system for private messaging. You can contact the business owner directly rather than going through the email system so you don't have to worry about it being buried in incoming emails in someone's inbox...
Google
Start by doing a search based on the keywords that relate to your target market. You can select your keywords and add a location to narrow the search a little, for example Small Business, Sydney. It will bring up a range of businesses that use those words in their marketing. Many of them will complement your own business and would therefore be great choices of partner.
At the side are the paid links which target the same keywords. Often these businesses have a bigger budget to play with so they might be interested in partnering with you.
LinkedIn
This is another source of contacts for you. Did you know that you can search LinkedIn? Log in to your account and up in the top right corner is a link called "advanced search". It will bring up a screen that lets you select the industry you are interested in, the country and much more. It will let you search using your keywords and even let you exclude certain words by adding NOT to the phrase. For example "Heavy Metal" NOT Metallica.
Facebook
Finding JV partners on Facebook is as simple as typing in your keyword in the search bar. Just type in 'diet' and see what comes up. Enter some of your keywords and you will be amazed at who you find. It will bring you up a list of related pages, people, posts that are relevant to the word and even Bing search results.
Twitter
Have a look through Twellow, which is a sort of Twitter yellow pages or take advantage of Twitter Lists. You can search in Listorious ( a directory of Twitter lists) or you could just go to the page of a business that you know is relevant and see what lists it is on. The lists and directories and useful because they bundle together related businesses into one place.
So there are 5 easy ways to track down businesses to create your Joint Venture with. Good luck.